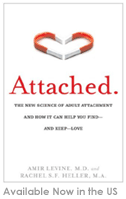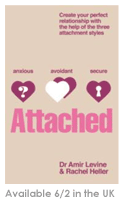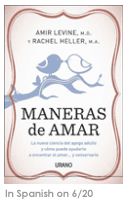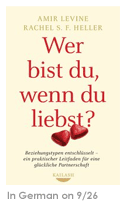 The New Science of Adult Attachment and
How It Can Help You Find-And Keep-Love
"A groundbreaking book that redefines what it means to be in a relationship".

"...both fascinating and fun. Attached will help every reader to reach fulfillment in love. I enjoyed every moment."

"...very smart...clear, easy to read and insightful...a valuable tool whether you are just entering a relationship or... (have) been married (for) years, and thought you knew everything about your spouse."

"...fascinating and enormously useful guide to one of life's most important ventures—finding and sustaining a secure, satisfying love relationship."

"Cinderella's prince passionately turned his kingdom upside down simply to find her perfectly shaped foot, and they lived happily ever after. This book is for the rest of us."

"...This one could save your customers a fortune in therapy bills..."

"A practical, enjoyable guide to forming rewarding romantic relationships."